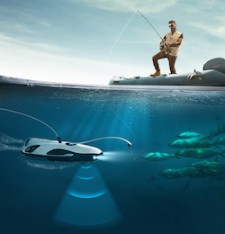 PowerVision announced its "Best of CES 2017" award winner, PowerRay, will be featured during a Global Launch in cities worldwide.
San Mateo, CA, March 3, 2017 (Newswire.com) - ​​PowerVision Technology Group, a worldwide leader in UAV, robotics and big data technologies, and the maker of the world's most intuitive consumer drone PowerEggTM and the premium professional cinematography drone PowerEyeTM, today announced that PowerRayTM, an innovative underwater robot that features a 4K UHD integrated camera and ground-breaking features designed to revolutionize freshwater, saltwater, or ice fishing for today's recreational fishing enthusiasts and casual hobbyists, will be featured during a Global Launch in cities worldwide, including Munich, Paris, London, New York, San Francisco, Beijing, and Tokyo. These events will feature live demonstrations of PowerRay and its capabilities.
About PowerRay
Delivering the most thrilling and effortless fish finding experience for consumers, PowerRay features an optional add-on component, The PowerRay Fishfinder, which leverages sonar systems to detect fish with precision and sends images of fish and underwater landscape, temperature data, as well as alerts to users through internal Wi-Fi to enable fishermen to make spontaneous decisions. Using the PowerRay Mobile App, users can view a real-time transmitted photo or video captured by PowerRay's integrated 4K UHD camera on any iOS or Android mobile devices, in addition to receiving fish-identifying images, underwater data, and alerts. Users can also view the real-time position of the PowerRay robot, select travel mode, speed, and light setting, and operate the integrated 4K UHD camera functions for underwater photography and videography, all through the PowerRay Mobile App.
PowerRay has an optional, remotely operated precision remote bait drop. Users can secure baits and operate the PowerRay robot to deliver the bait precisely to the desired location, monitor and control the entire fishing experience through the real-time viewing in the PowerRay Mobile App.
For users who want an immersive First Person View (FPV) experience, an option to control the robot through a wearable device, or to interact with fish through a fun and engaging gaming experience, PowerRay also supports an optional PowerVision VR Goggle to provide a thrilling underwater view through virtual reality technology. With gravity and gesture recognition capabilities, the PowerVision VR Goggle allows the users to interact with and manipulate the robot under water via head tilting. Users can control left turn, right turn, up, and down.
About PowerVision
PowerVision Technology Group is a worldwide leader in UAV technologies, products, and services with a corporate mission to innovate the future. PowerVision's lineup ranges from smart drones and robots, data visualization and forecasting, virtual and augmented reality. Founded in 2009, PowerVision Technology Group comprises nearly 500 employees in China, the U.S., Canada, Australia, Germany, and Finland.
PowerVision Robot Corporation, based in San Mateo, California, is PowerVision Technology Group's headquarter in the U.S., Canada, Australia, and New Zealand. To learn more about PowerVision Technology Group or PowerVision Robot Corporation, please visit www.powervision.me. You may also connect with PowerVision Robot Corporation on Facebook (www.facebook.com/powervisionme/) and YouTube (www.youtube.com/c/PowerVisionRobot).
​Media Contact:
Craig Glover
Phone: +1 (650) 435-5982
Email: craig.glover@powervision.me
Source: PowerVision Robot Corporation
Share: